eBay used to be referred to as the "world's largest flea market." Variations on this "world's largest" theme included "swap meet," "yard sale," "antique booth," and every other image you can conjure up of tables and booths full of mismatched goodies. Imagine being able to skip scouring the Sunday morning classifieds for Old Lady Bertha's garage sale and, instead, be able to access a million Old Lady Bertha's in one place. It was a grand idea. A fabulous idea, for sellers and buyers alike.
The myth regarding the origins of eBay is that it started as a place to sell and buy collectible Pez dispensers. In truth, this story was just a marketing fabrication, but the spirit of the story still holds true. It was and still is a wonderful place to find the rare collectible, discontinued favorite toy, or one of a million other odds and ends. It is a collector's paradise and a bargain hunter's dream.
But, as with many of today's flea markets, it has also become overrun with mass-produced, easy-to-find at any dollar store, trinkets and trash.
Growing up, my mother would drag me along with her to every single auction within, say, 27 cornfields of our home in Southern Illinois. She owned an antique store and found most of her stock at estate sale auctions of old farmhouses. I was raised on corn dogs, cans of soda, and the sound of the auctioneer's chant broadcast across the farmhouse yard. Treasure hunting was instilled in me early.
When our weekends weren't spent at auctions, they were spent poking around flea markets.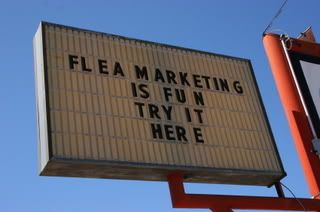 Rural flea markets were the best kind because they were filled with tables of Depression glass, old Matchbox cars, mismatched antique china, and booths of antique furniture. In a word: treasure.
Years later, as an adult, I began returning to flea markets, this time in more suburban areas of the South. I expected to find fantastic booths full of old quilts, trunks full of lace, and racks of vintage books. As though those gorgeous Plantation homes were constantly on clearance. Instead, what I found was a huge disappointment.
Today's flea markets are overrun with booths of plastic dollar store toys, knock-off designer purses, flimsy tools, resin figurines of fairies and kittens, and tables full of cheap socks or plastic sandals.
Needless to say, this has come to be true of eBay, as well.
What you won't find here at eBay Selling for eParents is information about how to sell dozens of resin statues of angels sitting on rainbows. Sure, if you have one or two you'd like to unload, we can do that, but if you were hoping to launch 32 listings of identical kittens sitting in baskets figurines, you might want to move along. I don't want to junk up eBay any more than it already is.
Rather, I would like us to enhance their community of sellers focused on quality and not necessarily quantity. I absolutely want you to make money, but I don't want you to do it by pushing mass-produced junk. I want you to make money pushing hard-to-find junk instead!
Thursday, September 20, we're going to play a little game. We're going to hold a faux auction. A free giveaway, to be specific, but we're going to have some fun with it. Here's a preview of how to play, then all the real details will come tomorrow:
Think about why you want to sell on eBay.
Think about what you want to sell on eBay.
A lot of you have emailed me to say that you need extra money to pay the bills but you have no idea what to sell. You are interested in drop shipping companies, but you don't want to be selling the same stuff as dozens of other sellers, all using the same pictures.  My question to you is, "What ideas do you have so far?  What are your goals?"
Think about it and hold your answers for those specific questions for our "auction" tomorrow.
Questions for today's post, however, and to which I would love your comments right now:
What do you think of the quality of the goods to be found on eBay today?
Do you still consider eBay to be the "world's largest flea market" or not?  Is that a good thing or a bad thing?
If you were thinking of selling those rainbow-sitting angels a dozen at a time, what are you thinking now?
Popularity: 67% [?]
Or read these related articles...