When I first started selling on eBay, I taught myself how to do it simply by reading all of eBay's how-to guides and FAQ forums available on their site. They have some wonderful Seller's Checklists, so I printed them out and made sure to do each and every item, researching what I didn't understand as I went along. It seemed incredibly easy, so I was always thrown by the seemingly dense questions other sellers would post on the eBay message boards. I would think, "that is explained in the 'help' section… did they not read that before they posted their question?"
Apparently, very few people actually do their research before trying to sell on eBay. What came very easily to me did so, in large part, due to the fact that I tempered my excitement enough to do my homework. I mean, any idiot knows to do that, right?
Wrong.
A couple of months after beginning to sell on eBay, I got a call from a friend whose boyfriend was a web designer. Let's call him Bob. According to my friend, Bob had accepted a job helping a woman launch an eBay store. She lived in lower Alabama and had decided to sell local goods that she thought might move well given their Southern homemade flair. Bob's job was to design her eBay store and help her launch her first few auctions, tweaking template designs and working on her business stationery for invoices, among other things. Somewhere along the line they had run into a snag or two, though, so he wanted to talk to me. I jumped at the chance to talk to Bob because I had been considering hiring him to design a store banner for my own store.
I'm not sure exactly what kind of problems I expected Bob to be having with this eBay store, but I remember thinking that they would be far too difficult for me to figure out, if this web designer couldn't, however at least I would have an ice breaker to talk to him about design. At this point, I was still thinking that my eBay success was more or less a fluke, and I admit I was a little hesitant to show my cards when pressed on real details of how to run an eBay store.
This would be my first lesson in how a little diligence goes a long way on eBay. Folks, the very fact that you are reading this blog has already put you leaps and bounds ahead of the mass majority of eBay sellers currently hawking their wares. I was about to learn that even the "professional eBay store builders" are just taking shots in the dark half the time.
Bob gave me a little history on the eBay store he was helping to set up, as background to his problem. The store owner had contacted him with her ideas for what she wanted to sell, as she already had the products, but she wanted a professional looking store template. She had never sold on eBay before, but she was familiar with retail sales and was confident that she could make a profit with little effort.
Bob set up an impressively extravagant storefront for her, beautiful, if not slightly complicated listing templates, and walked her through how to launch her first dozen or so auctions.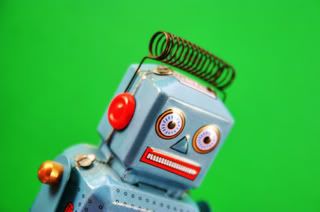 Then… nothing. Nothing sold. She relisted. Nothing sold. She relisted again. Nothing sold.
At this point, she had listed dozens of items a handful of times and was realizing that within another relisting or two she would have eaten up her profit in listing fees. What was she doing wrong? She had beautiful products, they were priced similarly to identical products in stores in town, her listings looked professional… what was she doing wrong?
I sat down at my computer as Bob told me the story and then asked him for the eBay store URL. A couple of things stood out right away:
The first thing I noticed, other than the beautiful store banner and listings, was that her pictures were not her own. Meaning, she had not taken the photographs but had rather copied them from either other websites or had been given them by the distributer. Granted, these were locally made craft items, so the photographs didn't come from a mass-produced drop shipper, but you could still tell immediately that they weren't photographs as taken by the seller. They didn't have the "these items are sitting next to me in my home/office/studio" look to them. The more you shop and research on eBay, the more easily you'll be able to spot these types of photographs. We'll talk more about the importance of photographs later, but you do want the buyer to believe that you actually have the item to some extent.
The next red flag popped up as soon as I searched for similar items in the Completed Listings search form. Yes, lots of similar items were listed on eBay all the time, as Bob had mentioned, however very few actually sold. In fact, the ones that did sell were selling for a fraction of the starting bids of Bob's project's listings. Granted, those selling for so much less were clearly of lower quality, but the higher quality products were not selling at all.
How had Bob and his client missed this?
I asked Bob what kind of research either he or his client had done before opening the eBay store. He said that they compared prices around town in local gift shops and ran a few searches on eBay to see if similar items were listed. He then said, "We couldn't believe how many people were listing very similar products on eBay, and ours were so much nicer, too."
My question to Bob was, "How many sellers were selling those products through their listings versus just listing them and ending up with no bids?" Can you guess what Bob said? "What do you mean? How are we supposed to know what has actually sold other than watching every auction through to the end?"
Neither he nor his client had ever researched the Completed Listings Search. Had they done so, rather than just searching the active listings, they would have seen that those dozens and dozens of active listings were ending with no bids and doing so consistently.
There was no market on eBay for what his client was selling.
That may seem a harsh conclusion to have come to, but all of the market research you need is right at your fingertips on eBay. They could have saved themselves hours of work and a ton of money if they would have just done some very simple research. There are many products that just will not sell, even if they sell like gangbusters in your own local stores.
The simplest and most important bit of research you can do when deciding whether or not selling a certain item on eBay will work for you is using the Completed Listings Search feature. Some basics, though I promise it is self explanatory once you get in there:
From the Advanced Search page, type in the product you want to research and then check the "completed listings only" box. The search results will then be limited to, you guessed it, only listings that have already ended.

If the listing ended up with a winning bid, the price will be listed in green. If it did not sell, the price is listed in red.

The listings are ordered by most recently ended first by default, but I usually re-sort the results to show the highest ending bids first, to give me an idea of what my best case scenarios might be. If the highest ending bids don't come close to your target profit, given how much you will have to pay for the items yourself or what you consider your time to be worth, you can pretty much wrap up your research right there.
We'll delve much deeper into the maze that is pricing strategies later, but you will want to begin considering what your goals are while you research your prospective auction items. When all is said and done, do you want to bring in a profit equal to $10 for every hour of your time that you put into this? Is there a minimum profit you would accept per auction? For instance, is it worth it to you to research, design, launch, manage, and ship an auction for an end profit of $5, or is it closer to $25?
Keep these goals in mind while running your Completed Items searches. You will quickly learn to spot which results are going to yield listing opportunities that are worth your time and effort and which are of no use to pursue further, at least given the current eBay market trends.
So now is the time… Grab your brainstorming list of goodies you would love to sell on eBay and start running some Completed Listings searches. Make notes about the highest final bids those items receive, as well as how frequently they sell versus how many auctions end "in the red." What is the average selling price? Take note of how they sold, also. Did they sell through a Buy It Now purchase or through a bidding war? This information will come in handy later.
The Completed Listings search is also where you will learn what works in terms of auction listing styles. Take note of how the ended listings with the highest bids look. Are they polished? Cluttered? What do the photographs look like? What impression about the seller do you get from the item description? Anything? Would you have bought from this particular seller and why?
I realize that this post is a bit long, but the Completed Listings Search is going to be your absolute best friend forever as an eBay seller. This is that girlfriend that you run home and call after flirting with the cute boy at the grocery store. Only this time around, it's a computer and you'll be rushing home from stumbling across the find of the century at a salvage store. The more familiar you are with how the Completed Listings Search works, the faster you will be able to make decisions about what finds you need to pounce on and which you need to let pass.
Now get to searching! Do your research! Then come back and share your finds. Next time I am going to share some of the research I have done myself on a few of your shared brainstorming ideas. I know I said I was going to do it this time, but whew, you must be tired at this point… and you still have homework to do!
BFF! LYLAS!
Megan
(that's Best Friends Forever and Love Ya Like A Sister for you boys out there that didn't pass notes in junior high.
)
Popularity: 69% [?]
Or read these related articles...