eBay is a wonderland of fabulous tools and features. As you are wrapping up your initial (and consistently ongoing) target product research, you will have been hard pressed to not notice all of the banners pointing you toward additional features, promising to help you along your way as a new seller.
However, a lot of these additional features and tools also promise to dip into your pocket a bit.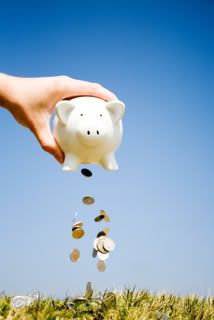 The question is, "Is it advisable for a seller with big plans and grand goals to pay for extra selling tools right away?"
The simple answer is, "No. Save your money until you make some money."
But wait, doesn't it take money to make money? Yes and no. Between your listing fees and any costs that may be incurred through building your stock (if you plan to sell items you don't already own), you'll be handing over plenty of money to eBay and PayPal over these first few auctions. If you aren't careful, you could easily nickel and dime yourself out of your profit in the beginning.
You have plenty of time to pace yourself.
In the meantime, let's take a closer look at one of those extra selling services that eBay provides. Services that I highly recommend, but not right out of the gate for a new seller. Not necessarily.
Marketplace Research is a paid tool that, for selling purposes, allows sellers to research up to 90 days of completed items data for specific search terms. For a fee, you can research and analyze:
average sold prices
average start prices
sold prices range
sold/ unsold ratio (okay, you have to do the math, but the numbers are there)
top searches by category (this is great for deciding what to buy, even if you have no idea where to start)
average bids per item vs. average Buy It Now prices (this helps determine demand, as well as listing format)
active items metrics also available, so you can keep an eye on your current competition
There are many more features, but this gives you an idea of the usefulness of the tool. The subscription levels break down as follows:
$2.99 for 2 days (slightly limited access but great to try it as a test run)
$9.99 per month (mid-level access, though everything you will need in the beginning is there)
$24.00 per month (full access)
In short, Marketplace Research is a fantastic complement to running Completed Listings Searches on your own. It does all of the averaging for you, breaking it down into easy-to-read charts and graphics. It culls all of the numbers you need and does it with style.
However, I highly recommend that no matter at what level or when you decide to subscribe to Marketplace Research, you continue running manual Completed Listings Searches on your own. You still need to be researching individual listings, seeing first-hand what is moving and why. Even a quick skimming of your Completed Listings results will give you more of a feeling for what sells than pure numbers can deliver.
eBay is not just a numbers game. I can't say it enough: eBay works best when it is personal. In this case, that means that you educate yourself on the numbers, but you keep your eye on what your potential buyers want and need. What speaks to them. If you can learn to recognize that, as well as arm yourself with solid research, you will be unstoppable.
Next up: The ultimate eBay selling tool… the eBay store. Do you need it? Why? When? Can you be a successful seller without it?
In the meantime, anyone running Marketplace Research and want to share your findings? We don't need specifics (that's up to you), but I'd love to hear how your research is going. And, yes, I'll be answering more of your posted and emailed questions coming right up.
Popularity: 30% [?]
Or read these related articles...