Most of us will already know that Etsy is a wonderful resource for newbies who want to go into craft business for the first time, and many sellers have made a great success of selling through Etsy alone. Etsy shops are easy to set up, attractive, easy to use, they attract lots of customers, and best of all there is heaps of help and support for sellers.
This week I am going to start reviewing my 3 fave Etsy shops every week on a Sunday or Monday. I will be reviewing the Etsy shops from a Craft Business point of view rather than just commenting on yumminess of the products that are sold. This means I will be looking things like:
the photography
the product descriptions
the mix of products
and signs of marketing activity such as other websites or blogs
To kick off I'm starting with an old favourite:

Green Cameo Necklace by Nico
Seller Name: Nico Tirona
Etsy shop name: It's your life
Website/Blog: It's your life presents…
CraftBoom! says: "I have always loved Nico's eclectic mix of products, she sells sewn goods, jewelery, and supplies all which have a sense of style which is all very Nico. This is important because it makes her range products cohesive as a collection. Her photography is absolutely delicious, it is both clear and very vintage stylish (again in her own style, which makes the images stand out form the crowd). Her product descriptions strike a good balance between being both very informative and enticing. As for other marketing activity Nico writes a nice blog which is mix of her personal goings on, and what she is doing craft business wise (see this pic of her work desk!). She is also sells through boutiques, other webshops, and she is in the process of building her own shop site.Phew!"
.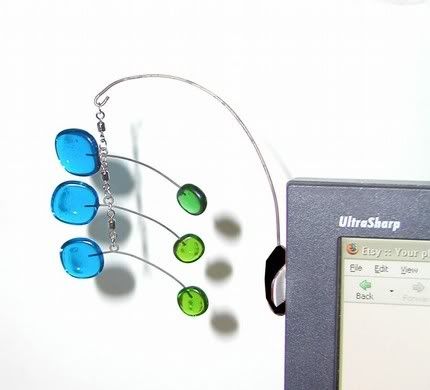 Computer Mobi by Leah.
Seller Name: Leah Pellegrini
Etsy shop name: Leah's Glass Creations
Website/Blog: Leah's Glass Art

CraftBoom! says: "Leah's shop was on the Etsy Front page today and her colourful fun glass caught my magpie eye. I went to her shop and found the above cool computer mobile (I'm a sucker for most things which are both beautiful and useful). Leah's photography is clear attractive and consistent in that the sizes are similar, as are the backgrounds (which I think makes a web shop look cohesive and organized). Leah's glass art is both fun, quirky and useful, and there is a good mix of prices so there is something to please most budgets. Her product descriptions are both informative (she has written down dimensions or shown product against items so you can get the scale), and she writes in a friendly style which I think is enticing. As for other marketing activity Leah has her own website, writes an entertaining blog, teaches classes, and sells through shows. Phew!"
.

Heart by Heart by Kelly Rae
Seller Name: Kelly Rae
Etsy shop name: Kelly Rae Roberts
Website/Blog: Kelly Rae Roberts

CraftBoom! says: "Kelly's artwork is lovely and dreamy, as are the photos which are clear and consistent. Her product descriptions are very informative and she successfully communicates the high quality of the media of her products to the reader. As with so many other Etsy sellers you can tell in the product descriptions that Kelly cares about the art that she sells. As for other marketing activity Kelly has her own informative website, writes an warm and friendly blog where you can learn more about the artist (which is a great way to further connect with her work) and she writes about her personal goings on and her art work in progress.
Do you have a fave Etsy shop that you would like put under the spotlight? If so please comment on this post to let me know
.
Or read these related articles...