Oh wow! Thank you so much everyone for your kind wishes, warm fuzzy words of support, and subscribing to my new blog
Thanks to your enthusiastic response I didn't think it was possible to get even more excited about the idea of hopefully assisting loads of crafty folks in setting up their own craft business - I think even my sewing machine might short - out!
OK, I know that I said that I would be talking about Ways to market yourself and your crafts (on the cheap) in this post, but I think that should be in my next post because what I am going to look at today is a good lead-in that.
In my last post I said that I would talk about the difference between marketing yourself, and marketing your handcraft. Just before I start I want say that as a crafter myself I completely understand that for some of you, the 'selling and marketing' bit is a bit harder than the 'making craft' bit. This is maybe because you're not sure about what busniessey strategies you can use (I hope to help in that department) and you may feel shy about your work. I know I harp on about this, but you need to work on gaining confidence in your work and your skills because this confidence affects EVERYTHING that you do. I'm not talking about taking the craft world over 'Dr Evil style' kind of confidence, just a positive belief in yourself that you work hard at what you do, and that other people out there will appreciate it and some of them will be willing to pay for it. This confidence won't come straight away, almost everyone sells their handcraft at too modest prices in the beginning (yep, me included), but as soon as you get positive feedback from your customers and other people, you should accept it and build on it. Why am I talking about confidence now? Well, it leads nicely into looking how to market yourself!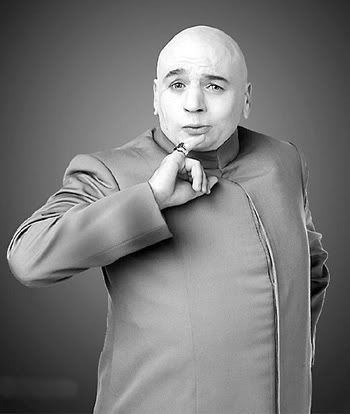 There is a difference between confidence and megalomania. Mwah! Ha! Ha!
What does marketing yourself mean?
In short, it is creating a 'brand' for yourself, and you HAVE to be confident about yourself and your products when doing this, because if you don't believe in yourself other people aren't likely to either! What does branding do for a business? Well a short answer (because branding is a science all of it's own) is that a company's brand is: what you understand, what you know, and how you feel about the company. See how this is distinct from what you know about the product of the company? When a company talks about it's product, it might tell you about the product's size, colour, and it's capabilities.  So back to branding, what sort of feelings, thoughts, and images do you get if I ask you to think about Ben & Jerry's ice cream? Come back! I didn't mean for you to rush to your freezer! I think it would be fair to say that a lot of people would say things like 'I feel positive toward them', 'they make quality ice cream', 'they are fun & young at heart', and 'they have good company ethics' etc. If monsieurs Ben & Jerry hadn't created their own brand in this confident manner (or any manner at all), as far as you or I are concerned Ben & Jerry would just be a couple of beardy guys who happen to make icecream…big deal, what are their names again? There are squillions of companies selling ice cream and branding helps B & J to stand out from the ice cream crowd in their own special way. You see, to get the competitive edge it's not enough to make amazing ice cream. Branding is also essential in helping customers understand our business. As humans we generally feel more at ease with things that we can easily understand. For example, we like it when a shop is tidy, organized, where product groups are clearly defined, and the products are clearly labeled.
Drool Drool Drool! Look how fun this tub is? What brand messages (besides EAT ME!) are you getting from looking the label?
Why does all of this branding stuff apply to a small craft business owner like me?
This is a wonderful time for people like you and me to set up their own craft business because the internet makes it so easy to do the necessary research, online shopping is going through the roof, and the set up costs are comparatively low. This means that lots of other people have twigged on to the opportunity too, and this of course creates competition. My own business has competition, and whether you sell in a market, Etsy, eBay, or your own website, your business will too. To give yourself an edge and to get happy customers passing the word around about your business you should try implementing (from as early on as possible) a few branding strategies for your own business. These strategies are worthwhile, they don't require a masters in business studies, they won't break the bank, and they DO work! (I'll be talking about what these branding strategies are in my next post).
So what sort things about our craft business can we convey in our own branding?
Whether we specialize in vintage or modern handcraft Japanese etc. style craft.
What sort of craft do you make jewelry, quilts, ceramics, illustration, fiber, knitting, craft supplies, etc?
Whether you a young and funky, or traditional, or folk, or urban, or bohemian, etc. etc. etc. type of business
Whether you are you high end, or mid, or high turnover and value type of business
Whether you are you a ready made or commissions, or both kind of business
Whether you are a personal, or not so personal type of business (my own business is deliberately very personal, my mugshot is all over my blog, and I describe my products in my shop in a conversational way).
Next time: I will talk about what things we can do get our own brand for our craft business.