When starting up a business many individuals (me included!) make the mistake of not investing enough/some hours (and a bit of cash) into marketing their lovely craft, and marketing themselves (there is a distinct difference between the two, but more about that in the next post).  I know it's hard to believe, but it isn't enough to make gorgeous handcraft. In order to run a successful and competitive business you need to tell others about the existence of your lovely craft. This means you need to make marketing your craft an essential and ongoing activity for the life of your business.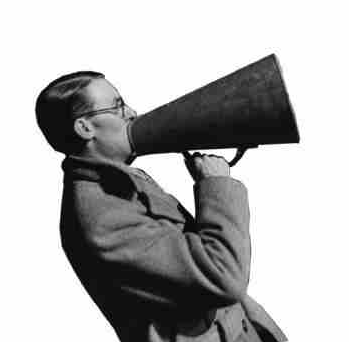 Yep, you gotta shout your craft out, loud and proud!
We know that huge corporations plow huge sums of money into marketing their companies and products, and whether we like it or not; it works! How else would we know about the funny names of products, what they do, and who makes them etc.? Well, fortunately for people like you and me who want to run a craft business from home (or close to home, like I do) we don't need to shell out huge sums of money. There are a few tricks that don't cost anything, and we'll look at them here:
Sort your email signature out. An email signature is a collections of words, or images, or links (or all 3) that you choose to appear in your outgoing emails. Think of all of those emails that you send each day, week, and year. Each of those emails could be telling all of those recipients about your company (and blog if you have one). Now that could add up to LOTS of recipients. In my email signature I include my name, my role within my company, what my company does, and links to my shop and my blog (see below). I have found this email signature very useful, and I have made sales that I never would have thanks to the links. Here are the instructions on how to change your email signature in Outlook, Hotmail, Yahoo, Googlemail. As with everything else, you can more go deeply into just what you should say, and include (or not) to maximize the marketing benefits of your email signature, but we'll save that for another post; it is far more beneficial to include some detail about you company than none at all.

Lisa Lam

U-Handbag Proprietor

Bag Making Supplies

Word of mouth. You put all of those hours into creating beautiful handcraft, so you MUST be proud of your skills! Show them off, if possible wear your craft; show off your handbags, jewelry, scarves, shoes, etc. Don't be shy when people ask where you got your lovely bracelet, tote bag, hat (delete as appropriate). Be enthusiastic, joyful, and positive about your love of your craft.  Don't don't sell yourself short and play your skills down. Remember enthusiasm is infectious. Tell the girls at work, your friends, your family, the person sat next to you on the bus, parties, at the hair dressers etc.  This is a good time to try to overcome shyness, your business will thank you for it!
Want some free business cards? This company gives away 250 FREE no obligation business cards (in the hope that you will order, and pay for more).  Just click on this and then select your country from the top menu. Get them, then give 'em away!
The Internet. It's true, internet users watch less TV. Who can blame them when there is lovely craft to be made and lovely blogs to read and things to learn etc etc. I've said before, the craft community is a lovely, warm, and friendly bunch, the amazing internet brings us together in our millions…oh yes, we are a huuuuuge gang of crafters! If I'm not running my shop, making a bag, writing in my blogs, or eating, you can bet your bottom dollar that I'm surfing the web and reading other crafty blogs, drooling over the lovely handmade craft in Flickr, or surfing the craft forums. I'm no different to millions of other crafters, they all do the same! This means there is a potentially huge audience out there on the web for you to show off your craft to.  There are lots of social websites out there for you to contribute to and share your craft on. Get your lovely handmade goodness out into the web and blogosphere and contribute! Comment on people's blogs; show off your lovely handmade goods on craft forums like Craftster, CraftZine, and Whip-up; get your handmade craft pics into Flickr.   There's also Myspace, and Facebook (which I am on).  Get your pictures and web links out there onto site like these, but don't overtly sell your handcraft in this manner, it looks unprofessional. All of this surfing does eat up time, and how much you decide to spend on it is up to you, but in my experience I have found it to be very beneficial in getting my little company out there, it doesn't cost me any money, and I would have been surfing for fun anyway!
Next Time: Ways to market yourself and your crafts (on the cheap)
Or read these related articles...