One of the challenges of online selling is taking good shots of your products. Your pictures need to look enticing, be clear, and be informative. It's important to get your pictures looking the business because (obviously) the online shopper cannot touch or feel your products (unless they buy them!).
I personally think that craft product shots look more professional when all of the shots have something in common with each other e.g. same model/s wearing the products, same backgound/s same size shots, same shape shots, same style, same frames etc. etc. etc. Of course how you choose to present your shots is a personal thing and will also be very dependent on the flavour of the craft that you sell. I want my shop to be reasonably modern, simple to use, and clean to look at. To that end, my product shots are all the same size, and they all have a pure white coloured backgound. The benefit of having a plain coloured or white background for your shots is that the product is in full focus and there is nothing in the background to distract the onlooker. So I am going to show you how I take product shots with a pure white background…
FYI: I use a Pentax Optio 550 camera, and I use Photoshop CS2 for image editing.
1. Take your shot using the whitest back drop that you have. I just use an A3 pad of layout paper which is very white (but it's still not pure white as you will see later…). I've seen a very cool link on how to make your own photostudio (on the cheap) via this cool craft site. Before you take the shot inrease the exposure to make the camera take a brighter, lighter picture (I think it's the exposure anyway, do you know what it is, could you tell me?) Light is very important for product shots, they just make things look better. When shots are too dark things look dingy.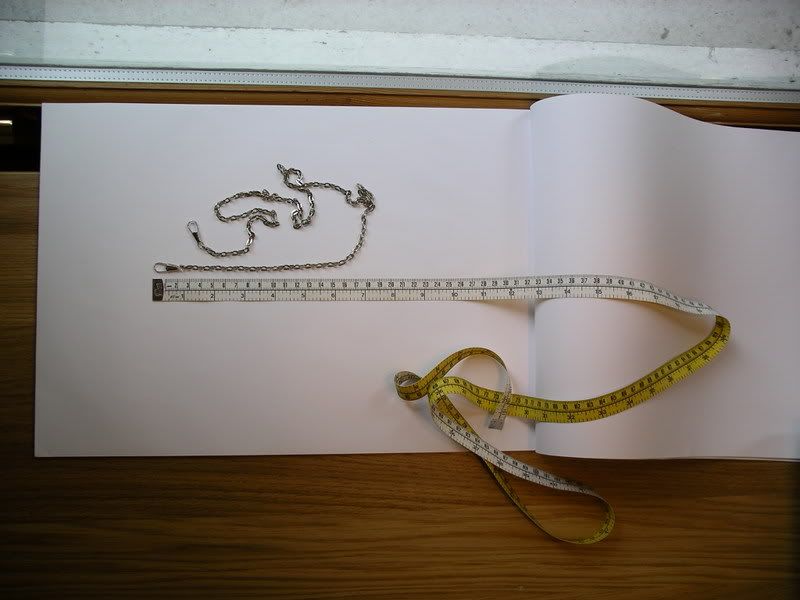 Here's a zoomed out photo (un-brightened) of the purse chain that I am going to take. All very hi-tech isn't it?
2. Here is the original shot in Photoshop CS2. Even though I brightened up the shot with my camera you can see that the white paper has still come up grey. So I need to make the background pure white. To do this click on IMAGE in the the top left hand menu, then scroll down to ADJUSTMENTS, then click on LEVELS…
3. To whiten the background, type in the INPUT LEVELS (right hand side) box a number from '230′ to '245′, (it depends on how white your photo is, just experiment!) then click OK. Try to get the background as white as you can without changing the colour of your product too much. Don't worry if you can't get your back ground pure white, we can do something about this later…
4. OK so this is white enough for now. I prefer to make my pics a square shape. To do the same, click on RECTANGULAR MARQUEE TOOL (the square shape made from dashes) in the top left hand corner of the tool box (the tool box is the thing with all of thumbnails of pens, brushes, etc on it on the left hand side of the screen). Then drag the cross whilst holding down shift (which will make the shape square) at the same time over your image to make the size of the square shape that you want. When you have a square shape selected on your image, open a new work page (FILE, NEW) and drag your squared image over to the new work page. Now you have a new work page with your squared image on it, shut the old image down, you don't need it anymore.
5. Now the image is on the new pure white work page you can see the background of my pic still not pure white, you can see still see blue grey on the left of my pic. So I've clicked on the ERASER TOOL (which is the 6th box down on the left in the tool box), and I'm going to rub out as much of the blue grey as I can without rubbing out the purse chain or tape measure as well…!
6. Here you can see that I've rubbed out as much of the blue grey as I could. Now it looks like there are munchy marks around the tape measure and metal loop - they have to go! What I'm going to do is soften and blend those munch marks so the edges are no longer hard and they will end up looking like shadows. So I click on the DODGE TOOL (7th box down on the right hand side). After clicking on the DODGE TOOL look just under the menu bar, ensure that it says 'SHADOWS' in the Range Box, and there is '100%' in the Exposure box. Now use the dodge tool by passing the tool over the munchy marks and repeatedly clicking…magic eh?
7. Hurrah! No more munchy marks and the darker areas now look like natural shadows…
8. Now to make my pic a square shape I click on the RECTANGULAR MARQUEE TOOL again, and hold down shift and I select the square shape that I want on my pic…
9. Then I click on IMAGE (in the top drop down menu), and then click on CROP so I am now left with the square photo…
10. Then (in the same menu – IMAGE) I click on IMAGE SIZE and type in the size that I want, I save my handiwork, and then I'm done! And here is the finished result!
Which craft shops have your favourite craft product photos? Why not share links to your fave shops in your comments so we can all be inspired by them too
Or read these related articles...