Almost everyone is a customer of someone. My customers buy bag making supplies in small amounts from me, and I buy supplies from manufacturers and wholesalers in great amounts. Now it's true that MOST of my suppliers give me sh**ty service - unfortunately this appears to be more the norm amongst wholesalers and nothing (hopefully) to do with me being the customer!! (I'll be looking at ways to try and overcome problems with suppliers in a future post). But luckily there are exceptions (funnily enough almost all of them happen to be women) and all of them provide a very personal and warm service. From a business point of view they understand how important it is to take the time, and maybe spend a little money in treating their customers like VIPs. Because your customers are VIPs! Without their support and their word of mouth, you are sunk (if not sunk than you are at least not going to fulfill your potential to become a growing business).
As a retailer of bag making supplies. I try to provide good service that I hope is memorable. If my customer service is memorable there is a better chance that when a new customer needs bag making supplies again they will hopefully think of me and my shop again, or if they attend sewing classes, or have sewing buddies, they might recommended my shop to others. When I am a customer, bad customer service makes me see red, and I will always make a fuss if an assistant doesn't say 'please' or 'thank you', or even acknowledge me (even if it makes me look really uptight and I blush like a beetroot!). One of my fave shops in London is John Lewis which isn't the cheapest department store, but the service is so helpful and polite, that to me it's worth paying a little bit more to be treated pleasantly (shopping in London is REALLY stressful and most service is rude, so to be treated nice is lovely). Here are some things that I do in my own shop to try and provide memorable customer service. How about trying some of these yourself?:
I hand write a little thank you message in every one of my invoice sheets
In the weekdays I post orders on the same day that I receive them to cut down waiting time for customers (who don't want to wait; they just want to sew!)
I pop in a sweetie in with the order for the customer to chew whilst they are sewing
I wrap everything with great care, and use good quality packaging
I usually end up gossiping with customers who phone with their orders (I MUST cut down on this a bit!)
I try to give full and helpful answers to email inquiries be they sewing or product or craft business queries (I'm not as fast as I would like, but then I'm the only one who can answer the emails!)
I believe in getting personal with my customers, if that is also what they would like.
I sometimes pop freebies in with the orders if I have any lying around the office
I also do things like this! I am writing a blog on how I go about running my business and how you can too. I also write my other blog which is more about me and how to make bags. Hopefully the information contained within these blogs is helpful and entertaining. If yes (please say yes!) then this is another way to provide good customer service. Readers of these blogs may not yet, or ever become customers, but IT'S ALL GOOD, and what goes around, comes around…
I'd like to contrast ways in which (I as) a retailer gives good customer service with how one of my favourite suppliers give great customer service. A fine case in point is the lovely Amy Butler. I have been selling her gorgeous bag patterns in my shop from the very beginning and in that time Amy has taken the time to be warm, friendly, and helpful. I'm sure that will remain a good reason as to why I will always stock her patterns. It's widely known that Amy is talented and successful, but even better, it is also widely know that she is lovely with it. Here are some of the things that she and her company have done to provide good customer service to me (a retailer):
She replies personally to emails swiftly and she likes to be personal too!
Her company dispatches patterns swiftly
I am always updated about any new releases and I am sent copies of new patterns hot off the press.
Amy is very supportive of businesses that carry her products - in all sort of ways.
Not only does Amy send retailers samples of new products, she asks you if you would like them first! Which brings me to the other half of the reason that I'm writing this post…
Amy has designed the Sola (evening garden) fragrance for a environmentally friendly wool and delicates soak wash, and she kindly sent me a bottle (thanks Amy! OXO). Soak is the most gorgeous wash for your lacy undies (if you're that kind of gal - I am on occasion!) and your precious woolies that you'll ever use. I have used this yummy soak before as I've been given a bottle of this very flavour as a pressie (thanks Lauren! OXO) . It's dead easy to use, you just soak your clothing in a solution of this stuff for 15 mins, and then dry (no need to rinse). What I like most about it is that your clothes smell just wonderful, I go around sniffing the cuffs of my cardi the whole time…bliss! I was very tempted to keep this for myself, but no that's not good karma… So I am going to give this new bottle of Sola Soak away to one lucky draw winner.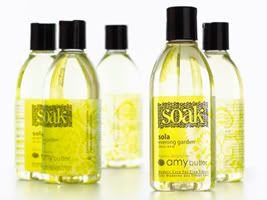 Try Amy's limited edition Sola on your clothes; it will make the boys think 'Mmm…!' This wash is a fabulous way for Amy to expand her lovely brand don't you think?

To be in with a chance of getting your hands on a bottle of this lovely wash/perfume for your delicates, leave a comment this post by:
telling us what crafty things you sell, OR
what are you planning to sell in your craft business, OR
if you don't have a craft business what is your fave handmade crafts shop?
I will draw 1 lucky winner using the trusty random number picker in a weeks time, 2nd October. Good luck!

I'm sorry but I can't reply to comments in draws, but I do love reading every single one of them
Or read these related articles...