If you make things and you also surf the net, there's a very good chance that you have at least a few Crafting Business Heroes. These folks are likely to be individuals who's crafting skills make you have touch of green monster, or they have amazing design skills, or they are fabulous teachers, or they write uber craft blogs, or they write craft books or paper patterns that you can't do without, or their craft businesses are taking off, or their photography is to die for, or they are simply folks like you and me who are just doing it! I have lots of crafting business heroes who regularly inspire me and they remind me that crafting is such a wonderful the best pastime and like them, YOU can make a living from crafting too.
Today I am going to start a series of interviews with Crafting Heroes. I'll be asking them questions about their craft business and showing you pics of the yummy things that they make. I hope you enjoy them, and you get as inspired and learn some brill craft business tips from reading the interviews as I have
To kick off our Crafting Heroes Interviews I asked the talented Lisa Billings of PinkLemonade Boutique to answer some craft business questions for me. She's definitely a bag making hero for me, and I know that a lot of you will already know who she is. Lisa makes bag and purses to die for. Her style is gorgeous, unique and distinctive, and I would consider eating my left foot just to have sewing and quilting skills like hers!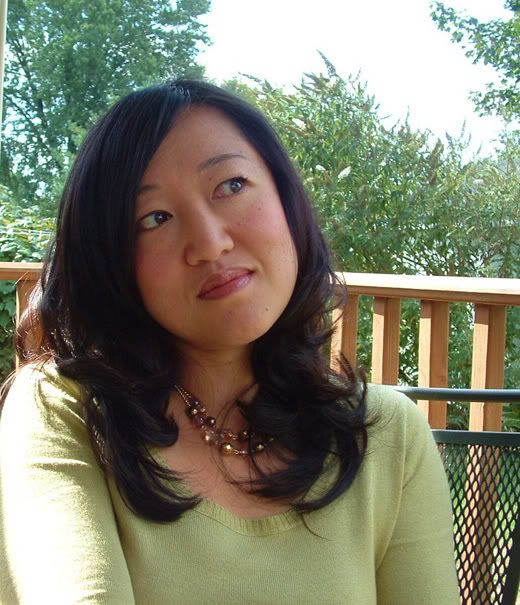 The talented Lisa Billings of PinkLemonade Boutique. She looks like she's dreaming up another lovely bag design
Lisa lives in the US, outside of Providence RI, with her husband Jeff, and her 6 year old daughter Olivia, and cat Violet.
CraftBoom!: How long have you been in craft business?
Lisa: Since 2001
CraftBoom!: Where/how do you sell your craft items, and do you work from home?
Lisa: I've been selling on eBay since 2001, and Etsy since last July. I did my first craft show last month and have done home parties on occasion. I work from my home studio. I had a website, but found it hard to maintain it all the time, and update it, so I made it just informative with links to all things Pinklemonadeboutique.
CraftBoom!: What made/inspired you to go into craft business, and what were you doing before?
Lisa: I was working as a teller for a large bank, but then when I had my daughter, I decided to be a stay at home Mom. We had to make sacrifices for that, but then found that I could earn money by turning what I always have loved to do, and that is to craft and sew into a little business.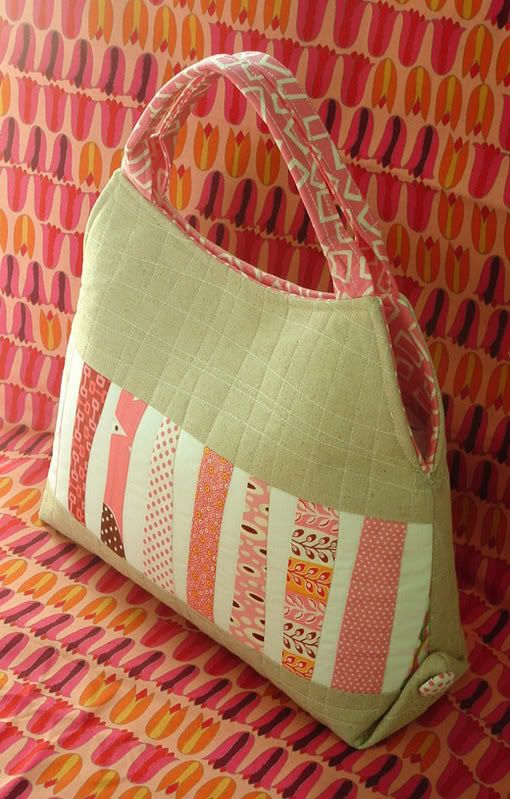 CraftBoom!: How did you finance the start-up of your business?
Lisa: Well I started off pretty small and simple so it didn't cost too much, I already had a sewing machine, so I just started buying small amounts of fabric.
CraftBoom!: How do you decide what you are going to sell?
Lisa: Well, I started making bags, because they were fairly simple, I didn't use any patterns, they were quick, and didn't need a lot of fabric. Pretty much instant gratification! I could sew one up and in a couple of hours have it listed on eBay!
CraftBoom!: When did you realize that your craft business had real potential?
Lisa: I got so many compliments from friends and family, and of course the sales on eBay started really getting pretty good, and I had a lot of repeat customers. That really told me that the product was decent.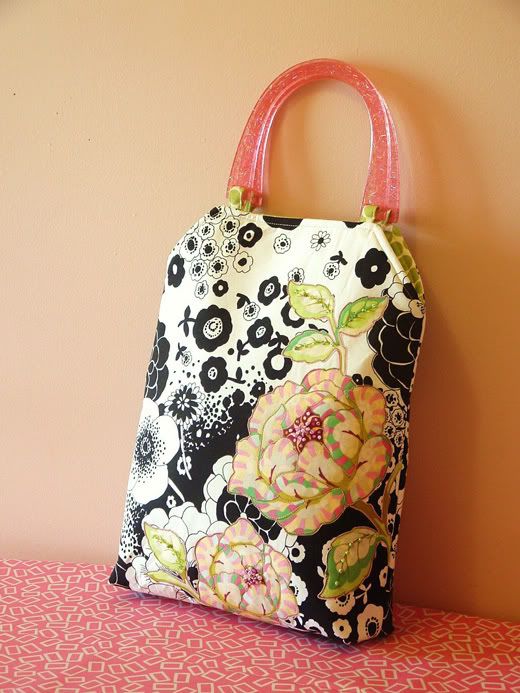 CraftBoom!: What things do you know now that you wish you knew from the beginning?
Lisa: That there are great resources out there, (like your blogs!) which are so helpful with practical advice. Especially when it comes to the business and money aspect. I wish I were more business oriented and more responsible in that way. Sometimes a little debt is unavoidable I suppose, like when your sewing machine breaks and you need to buy a new one, but just to buy yards and yards of fabric when you already have a lot and haven't used yet, not a good idea! And that there are ups and downs as far as the pace of selling, don't let it discourage you.
CraftBoom!:What things do you do to market your business?
Lisa: Well, first I'd have to say, that i consider this to be one of my weak points. I think that there probably is more that I could do, in that regard. But currently, I've been blogging, and posting my pics on Flickr groups. I'm working on getting a mailing list up and running also.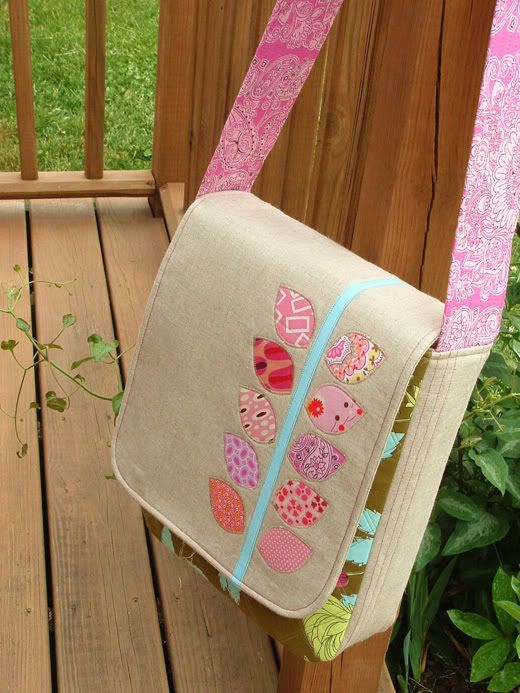 CraftBoom!: What do you love most about running your own craft business and what do you like least?
Lisa: I love the creative freedom! And the validation you get when people actually plunk down the money for something you've made from scratch with your own 2 hands, it's so satisfying, and what keeps me going. I would say the least thing I like is the self-discipline you have to have to be successful. Because although it's fun, you have to have some sort of a schedule and sometimes you have customs and sewing when you don't feel like it. If you want to have happy customers, you have to get things out in a timely manner. Also for me, I don't like making anything twice. But you can't always do fun things, you have to discipline yourself to do production mode things sometimes.
CraftBoom!: What advice would you give to newbies who want to start their own craft business?
Lisa: My advice generally deals with the product and the process mostly. And it is this:
You hear it all the time but it is so true: Do what you love. Because to be successful, you have to do it, and do it again, and again. If you really don't like it, it'll be misery.
Put your heart into it. Really be engaged with the creative process, loosen up, and let your instincts take over. I don't create with my mind, I let my emotions rule. I know that sounds kooky, but it works for me. I do what I personally love, like styles and fabric combos. And sometimes it's really unconventional. But I think, hey if I like it, maybe someone else will too. Do what is authentic to you personally. What I mean by that is, don't do what you think will be popular, or what other people might like, do what you like. And it'll come across. Also, find inspiration from other designers, but don't copy.
Strive for impeccable craftsmanship, both in the actual construction and in the design. If you wouldn't use it, don't put it out there. If you know deep down, that the product isn't your best work, you'll feel crappy about it, knowing you've sent an inferior product out there to someone who is trusting that you've done your best. Start over, or scrap it. Also, no matter how cool a particular design looks, if it doesn't work well in actual life, it's no good. With purses, I try to use a new design myself, to see how it operates, holds up to wear and tear etc. I put firm bottoms on totes, pins are removable for laundering, bag straps are reinforced.
Always be open to new ideas and a better way to do things. I've recently had an epiphany about fusible interfacing myself. I'm always trying to better my product. Also, there's always more than 1 way to do something. Experiment, and find out what works best for you.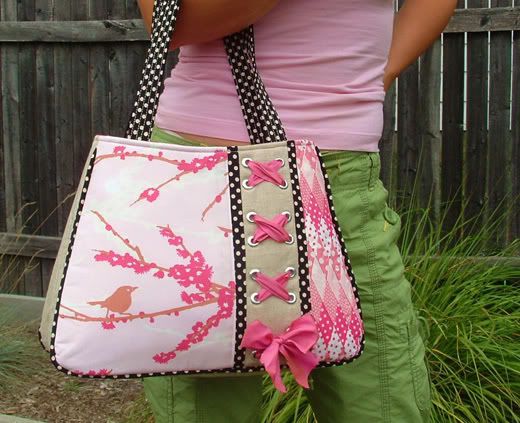 CraftBoom!:Are you satisfied with the income that your craft business brings?
Lisa: I think I'm satisfied in the sense that I really can't produce much more all by myself, and the time I have is limited being a Mom and the other stuff we all have to do. So the time I spend, and the income I have is satisfactory at this point.
CraftBoom!: What are your plans for future growth?
Lisa: I really would like to write a book, or the very least publish my patterns.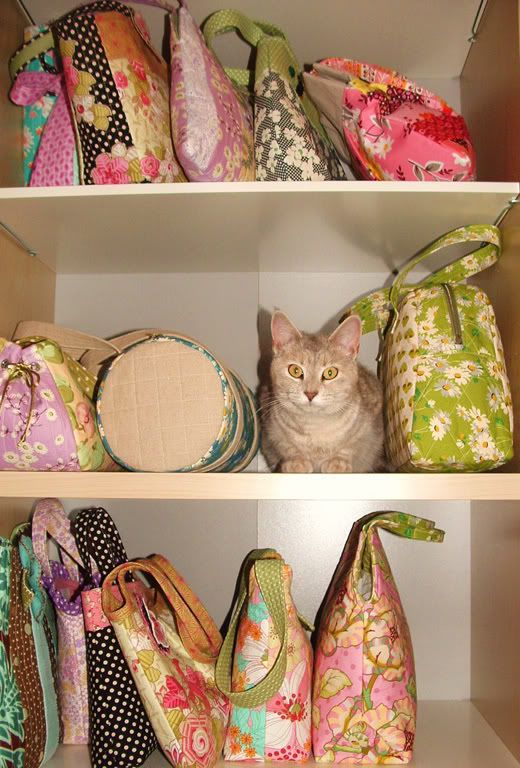 Woo! Thanks Lisa, that was really interesting and inspiring! I have a sudden urge to drop everything and go SEW! Best of luck in everything you do
Or read these related articles...