Sorry about being late to announce the winner of Sola Soak draw. I'm still trying to get into a routine with running my business, writing for a craft magazine, and writing 2 blogs- it's organised (utter) chaos, but we'll get there in the end.
Thanks for entering the draw everyone!
Okeydokey so the Random Number Picker chose number '39′.
39.
On September 26th, 2007 at 6:21 am, Jennie said:
I just started a business, making clothes fitted exactly to the customer.
I'm hoping everything will go well so I can start a craft line, aswell as making one of a kind, unique clothing.
So will Jennie will you please let me know what your address is and I will send you your yummy bottle of Sola!
And the other Fab Amy Butler Giveaway is this kit…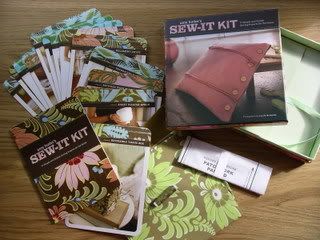 If you would like to win Amy Butler's gorgeous Sew-It Kit, skip over to my other blog and enter the draw.  Good luck!
Or read these related articles...